[ad_1]

Some of Elon Musk's craziest and most futuristic ideas start on Twitter. "The traffic is driving me crazy. I'm going to build a tunnel boring machine and start digging…", the tycoon tweeted in December 2016. This is how The Boring Company was born, whose goal was to build underground tunnels to end traffic jams in big cities like Los Angeles. But six years later, the only tunnels open to the public run only 1.7 miles (about 2.7 kilometers) under the Las Vegas Convention Center.
The system, called LVCC Loop, is only operational when conventions such as CES, the world's largest electronics fair, takes place this week in the city of the State of Nevada. In total, it has three stations: two on the surface and one underground. Although now the trips between them are free, several employees consulted by EL PAÍS do not rule out that in the future they will cost money. This newspaper has tried to get in touch with the company, which has not yet made a statement in this regard.
At the LVCC West Station, music plays in the background and several workers in fluorescent yellow vests give directions to CES attendees. "It is only possible to go to Central Station because South Station is closed today," says one of them, who does not specify the reason. He then tells them where to wait for the car. If someone is traveling alone, it is possible that other passengers will accompany them in the back. Every few seconds new vehicles arrive at the station. They come out of a tunnel and they are all white, black and gray Teslas.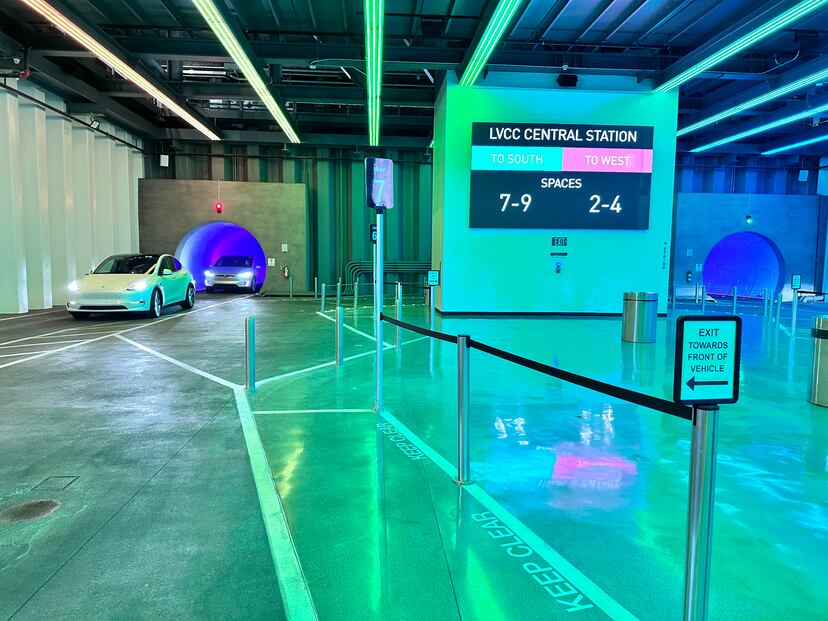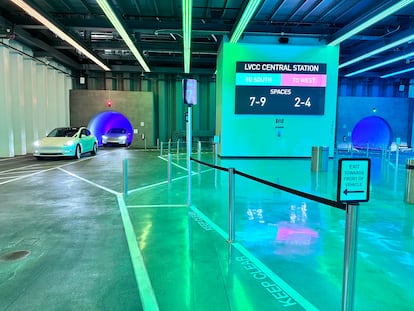 Most drivers wear an earpiece in one ear and some wear a cap that reads "Vegas loop". They kindly greet the passengers and confirm their destination. "I'm going to save you half a mile on foot (about 800 meters) in about 30 seconds," says Bryan, an American driver who has worked for The Boring Company since June 2022. Walking, according to Google Maps, this route between the LVCC West Station and Central Station takes about 10 minutes.
Bryan says his work "is wonderful": "I meet people and drive a car that costs tens of thousands of dollars, plus it's exciting to be part of something new." From the LVCC West Station, he goes down a hill and into a circular tunnel. The route, which has several straight lines and slight curves, is very short. Despite the fact that in 2018 Musk predicted a future in which cars could circulate in the tunnel at about 240 kilometers per hour, in the tests carried out by this newspaper the car has only reached 36 miles per hour. That is, about 57 kilometers per hour.
tunnels with colored lights
On the ground, to the sides, there are strips of lights that change color and add a futuristic touch to the entire tunnel, which lights up in pink, green, blue or yellow. Sometimes other cars are glimpsed ahead. These tunnels, which were built in about a year with boring machines, cost about $47 million, according to The Boring Company. When driving through them, there is hardly any space on the sides. Alberto Núñez, a Mexican who has been driving these cars for six months, assures that in an emergency, any car can be removed in five minutes. "Traffic is never going to stop because one car can push another," he says.
While driving, Núñez takes a look at a large screen in the front of the car. In it, the images captured by the cameras that are outside the car are shown, as well as other information such as speed, if passengers are wearing a seatbelt or if visibility is reduced. For this driver, the main advantage of expanding these tunnels through Las Vegas or other cities is that it would avoid traffic on busy streets like the Strip.
It remains to be seen if Musk manages to take these tunnels to other places, since the proposed projects in Los Angeles, Chicago and Baltimore have been abandoned, according to various media reports. The Las Vegas project is still quite different from how Musk envisioned it. The founder of Tesla stated in 2018 that cars they would be equipped with wheels that would adapt to the tunnel railsbut also seems to have discarded this idea.
In addition, when he presented a prototype of these tunnels in Los Angeles (California), he assured that only electric and autonomous vehicles could use them. At the moment, the vehicles have a driver. Even so, Núñez predicts that probably "one day you will leave the airport and a car with no one inside will take you where you need to go." "I guess not having drivers would make the service cheaper because having us here is a lot of work," Bryan admits.
Up to 4,400 passengers per hour
LVCC Loop opened in 2021 and, according to The Boring Company, has operated at every convention held since. At SEMA 2021, a car show, it transported "between 24,000 and 26,000 passengers per day." Last year at CES, it was used by "between 14,000 and 17,000 people each day, with an average travel time of less than two minutes and a wait time of less than 15 seconds." Steve Hill, Chairman of the Las Vegas Convention and Visitors Authority (LVCVA), tweeted in 2021 that the system could carry about 4,400 passengers per hour.
John Merrill, an Indiana State CES attendee, has traveled through these underground tunnels in a Tesla Model 3. "It's a nice little tunnel system, I think it would work in other cities like Barcelona," he says. For Eddie Avila, from Honduras, "the only advantage is that you don't have to walk and it's fast." Although he assures that he likes to walk, he considers that these types of systems are needed in Las Vegas: "We have shitty traffic and it would be useful for us, for example, to go to the airport."
Yeji Kim, who attends the fair from South Korea, points out that it is "faster to go through these tunnels than by road, since there are no hotels or traffic lights in between." But what he likes the most is that, as they are electric vehicles, "it seems very ecological." None of these assistants have found any problem with the system. As Kim points out, "in a single trip it's hard to spot the potential downsides."
You can follow THE COUNTRY TECHNOLOGY in Facebook Y Twitter or sign up here to receive our weekly newsletter.


[ad_2]