Today, Thursday April 6, the interpreter of 'Wolverine' or 'The Great Showman', has announced that these medical tests have given negative to the possibility of having re-developed basal cellsa type of skin cancer that he has suffered for several years.
This information has been provided by Jackman himself through a 'story' on his Instagram, in which he took the opportunity to state the following: «Thank you all for the love (…) Please, remember to put on sunscreen, regardless of the season".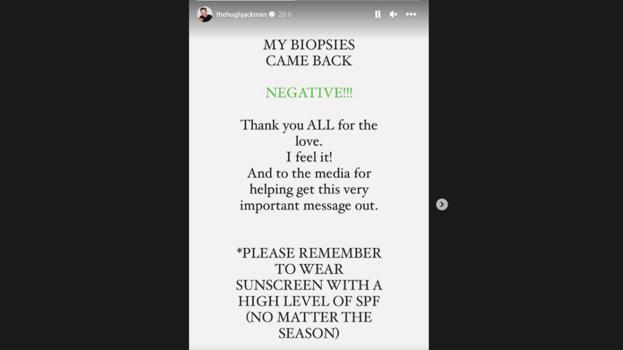 According to EFE, the carcinoma suffered by the Hollywood star susually appears as a slightly transparent lump on the head or neck and it is believed to be caused by prolonged exposure to ultraviolet rays, and that it is a cancer that is less likely to spread, unlike melanoma.
Although he himself has stated that this does not put his life at risk, Jackman is completely committed to raising awareness about sunscreen use every day and at all ages, emphasizing that he did not do it in his entire life and now assumes the consequences.
Consequence of this speech, the protagonist of the saga 'X-men' launched in 2015 the product 'Pure Sun Defense', a sunscreen for children from 3 to 14 years old. According to several studies, children under 10 years of age who do not use cream or sunscreen have a 50% greater chance of developing skin cancer when they are adults than minors who do use this product.